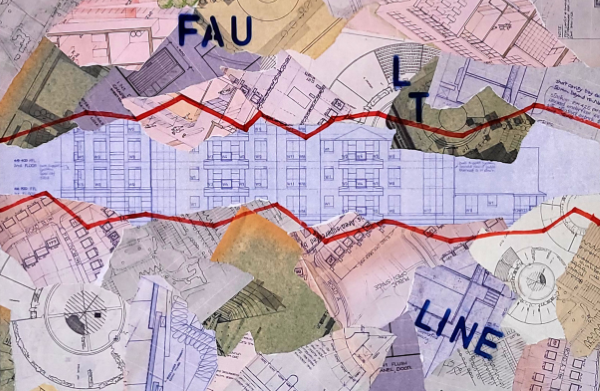 News
GRID Collective will be participating in the Russborough Car Boot Art Fair on Sunday 17 September 2023. This is our first time at this event, and we will be in illustrious company, with artists Gabhann Dunne and Una Sealy, to name just two. It starts at 1100, ends at 1600; admission is 10 EUR per adult.
Our recent exhibition, A Geometric Progression, in Tallaght University Hospital, closed at the end of May. The exhibition, consisting 40 works, was curated by Alison Baker Kerrigan, Arts Officer at Tallaght University Hospital, and kindly supported by the Meath Foundation.
Illustrating the evolution of GRID Collective over the past six years, A Geometric Progression included new works, as well as several pieces demonstrating our ethos of collaborative process. Holding the exhibition in a hospital environment demands awareness of the specificity of certain locations and so requires different ways of presenting; Alison Baker Kerrigan's curation of the 40 pieces on view gave us the opportunity to see these with a fresh, and often revealing, perspective. This in turns allowed for new interpretations and renewed consideration of GRID Collective's approach. As Baker Kerrigan describes it, A Geometric Progression" openly [invites] the viewer into a visual conversation as the artists explore the push and pull between formality and randomness".
The feedback from the exhibition was overwhelmingly positive. Alison Baker Kerrigan very kindly passed on some of the comments she received.
Patients:
'I walk the corridor in the evening to keep myself busy and get some steps in. The artworks help lift my mood and give me something pleasant to focus on.'
'Very interesting exhibition and a pleasure to view while I am in Hospital, I wish more Hospitals did something like this, it's fantastic.'
'Personally I love the Conversation pieces, the artists put together in a grid format - so much variety to see and to try to understand.'
Staff:
'I see something new every time I walk by.'
'My favourite artwork is 'To Infinity and Beyond' it captures such hope, something we all need.'
'This show is full of rich textures, vibrant colour and eye catching images.'
'Beautiful artworks, so diverse. Every board is a new conversation.'
Hospital artist:
'I really enjoyed seeing the mixture of colour, texture and the interesting inclusion of 3D elements.'
Finally, some kind words from Martina Larkin, CEO of the Meath Foundation.
"It was such an privilege to meet with Fifi, Helen and Mary and to hear how their experiences shape not only their own art but also impact on each other. It was such a wonderful opportunity to hear how each of the artists' lives had shaped their artistic expression. I hadn't realised, until speaking to the artists, how much they promote the creativity of the older professional artist and was hugely impressed in their advocacy towards increasing the representation and support of their peers. I felt such joy hearing how much the artists appreciated each individual's interpretation of their art and it inspired me to keep looking differently at the art around the hospital and beyond. They inspired me to honour my own interpretation."