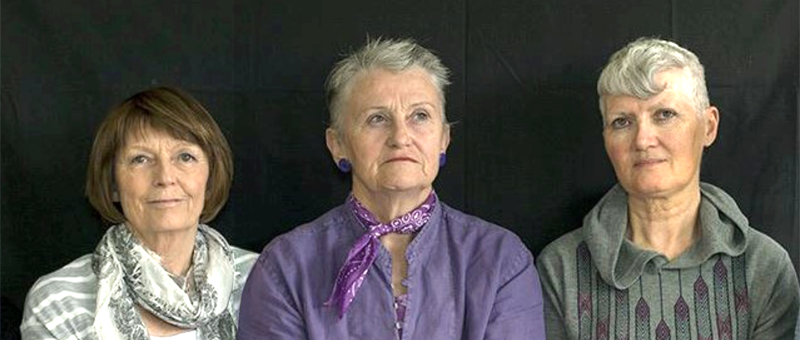 We are...
Grid Collective consists of three members, each with an individual practice. The short bios below give some idea of our different approaches.
Helen Blair
oil — cold wax — texture — gold leaf — mixed media
I began working with cold wax medium when I attended a 10-day workshop. As a medium for oil paint, it gives depth, texture and a kind of luminosity to the paint. I paint in layers, often incorporating other mixed media such as mica dust and ground crystals, as well as gold leaf and pigments. Using a palette knife and other varied tools including brayers, scrapers, and needles to create marks and indentations in the surface, I approach each work with an imaginary cosmic landscape in my mind's eye.
Mary Catherine Nolan
acrylic — wood — tactile — palette knife — inukshuk
My work is abstract, but often with a representational element as its starting point. My technique has moved from only brushwork to also using a palette knife to create more texture. I like to work on wood, and over time I have come to realize that I am fascinated by stones.
Fifi Dorothy Smith
kinetic projections — experimental film — mixed media
The focus of my work is primarily moving images in the form of light works, kinetic installations, and experimental movies. A preoccupation for me is the relationship between conformity and individuality, in particular in the context of mass behaviour, and linked to this, the shifting balance between emotion and reason in human motivation.
Some works