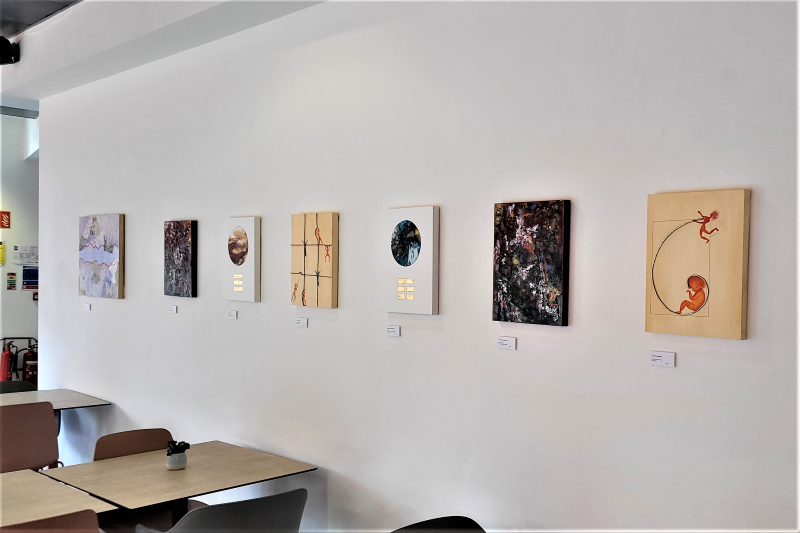 Geometry was not my mother tongue
Grid Collective's latest exhibition, Geometry was not my mother tongue, was held in the café of Rua Red South Dublin Arts Centre from 29 June to 29 July 2022.
The exhibition was part of the ongoing conversation about art begun in the Grid's first exhibition (2017) and continued in subsequent shows. The starting point for our discussions was the traditional notion that certain rules are believed to underpin classical artworks, and we wondered whether these could be, or indeed are, ignored or flouted in contemporary practice.
The works in the exhibition were the outcome, individual and collaborative, of the many hours we spent exploring the role of geometry in creative endeavour. Faultline, a collaborative work, is a collage of old architectural drawings by former architects Smith and Blair, these blueprints being the epitome of geometric realization. The individual works are responses to our mutual examination of how we each play with geometry in our practice, albeit often unconsciously. Conversation 4 is one of a series of collaborative works which we include in all our exhibitions: it consists of 'snippets' of our individual explorations of the topic.
A further nod to geometry could be seen in the way in which the works were presented. This is an important aspect of all our exhibitions, as it further underlines the collaborative and conceptual nature of our approach, as indeed do the titles of the pieces, which were debated and decided by us together.
With Geometry was not my mother tongue, as with all its exhibitions, Grid Collective's aim is not necessarily to find answers but to provoke further conversation – we love talking about art!